High-speed CNC milling is an advanced process that requires significant expertise for optimum efficiency. Edmik's highly experienced technicians can bring the full capabilities of high-speed CNC milling to any manufacturing project.
Our knowledgeable programmers develop manufacturing methods that allow for the most efficient routing of drilling, reaming, and contour milling. In addition, the careful selection of tool bits is essential to the quality and speed of production.
Edmik also uses high-speed CNC milling as a single or preliminary machining process to produce precision metal parts; often times prior to the EDM machining step. It saves costs and time.
CNC machining is versatile enough to provide an economical alternative to other, more costly machining methods.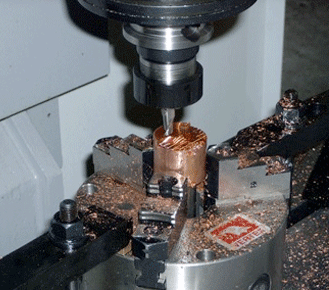 Edmik utilizes a variety of leading edge CAD/CAM platforms such as: SolidWorks, Autocad Surfcam & Esprit, which are capable of supporting multi-axis machining.